Contributor(s): Kendra Kubin, Jason Tassoni, Taleigh McGrath
Sunset Valley Farm is a place where people can truly feel like a family. Their main mission is to create an authentic experience, and for customers to be treated like the most important part of the farm. Creating a space for the Kamloops population to embrace beautiful seasonal landscapes and bountiful produce. At Sunset Valley Farm, nature and family-focused activities mean everything! 
Photos used with permission by Sunset Valley Farm
History Behind the Farm
Raj and his father bought Sunset Valley Farm in 2007 when it was still a horse breeding and haying farm. Coming from a long line of farmers, they knew how much hard work would be needed to make the land durable for produce, according to Raj he says that "farming is in his blood" which made their decision to purchase Sunset Valley Farm easier. With help from volunteers and an immense amount of effort, it took them two years of plowing by hand before they were finally ready to grow agriculture for the public. Their plan was to originally produce and grow produce which they would sell at farmer's markets but in 2009, they decided to grow a six-acre pumpkin patch and were astounded by the positive praise received by Kamloops! Since they began the pumpkin patch, they have moved on from growing fruits and vegetables and have moved onto primarily focusing on events. Sunset Valley Farm holds events year-round with their busiest attractions being the pumpkin patch of course and their Field of Screams event. Their goal is to create a place where people can come out and enjoy the nature surrounding them in a very real and authentic way. 
Food Production
Sunset Valley Farm used to grow and sell multiple types of produce, ranging from beets to pickled cucumbers. Raj and his father would attend weekly farmer's markets where they would sell their produce. After Raj's father, unfortunately, passed away, the amount of effort and work it took to grow and sell their produce was too much for only one person to handle. Since then, Sunset Valley has taken a step back on food production aside from selling their beets, onions and most popular: pickled cucumbers in the summer months.
The Pumpkin Patch
Raj and Sim started the pumpkin patch event because they thought it would be a great idea and sure enough, they were right! Since the purchase of Sunset Valley Farm, the pumpkin patch has become their most popular annual event. The main purpose of the patch was to provide a fun and scenic location to bring families and friends together, getting people to celebrate autumn with the picking of pumpkins, tractor rides, and ziplining. After many years of doing this, they have gained a loyal following around Kamloops. By hosting events for noble causes like Canucks Autism and the recent fire that demolished Parkcrest Elementary, they have given back to the community that has supported them.    
Photos by: Jason Tassoni
The Field Of Screams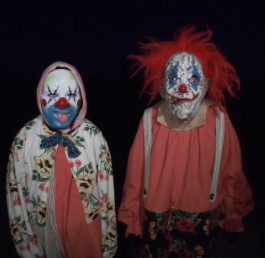 Before Field of Screams, they had an event called the Night of Fright. They have been doing that event since 2013. They would rent lighting, speakers, and props in order to make it as scary as they could. They had more and more people come which made it necessary for their friends to step in and help them out with this event. Friends and family would rally together set up tents, dress up in scary costumes and help scare the heck out of people. This event gained a lot of attention and so much so that Ominiss: an event production company approached them last year in order to join forces to make the first annual Field of Screams. This partnership has been smooth with very few problems that came with it. By partnering up with them they are able to give their customers a more exciting and authentic show. This year has gone over very well for them and they plan on continuing the partnership with Ominiss and continuously upgrading to make it better each year.
Meet Raj and Sim
Video by: Kendra Kubin, Taleigh McGrath, Jason Tassoni
Where is Sunset Valley Farm Headed?
Although Sunset Valley is still planning on largely maintaining its focus on events, they are going to begin to incorporate their farming roots again by starting a You-Pick option for customers where they can come and pick and choose their selected produce straight from the ground itself. They are also planning on launching new events such as a tulip or sunflower field where people can come and pick their own flowers, similar to their pumpkin patch. Sim, one of the primary operators of the farm discussed how they're planning on creating more events that cater to the Instagram community as that's where a large majority of their pumpkin patch audience comes from. We met with Sim and in our interview, she stated that "This past year we kind of realized that we're the place to be in Kamloops in terms of fall activities so we want to keep that legacy going and start taking on events that do that for us year-round"