Contributor(s): Becca Evans, Brendan Coulter, Gurbani Kaur, Farrah Johnson
The Problem of Food Insecurity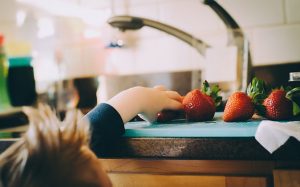 More than four million people across Canada struggle with food insecurity every day as a direct result of poverty. In fact, the BC Child Poverty Report reveals that in Kamloops, 17.9% of children live in low-income households. More often, guardians in these family structures struggle to live above the poverty line and frequently encounter challenges that limit their ability to provide the basic necessities of life. This means that kids as young as three years old may have trouble getting access to nutritious and healthy food. Nonprofit organizations like the Boys and Girls Club Kamloops have dedicated much time and effort into launching community-based initiatives geared towards addressing this concerning issue.
A Powerful Start to the Day
The Powerstart Program is a free program that involves volunteers picking up underprivileged children, taking them to school and feeding them a nutritious breakfast. The program operates out of the Boys and Girls Club of Kamloops, which is located off of Tranquille Street in the heart of the North Shore. 
Food security is something that not many people think about on a daily basis. Access to food is something that seems second nature to most, you wake up and grab an apple out of the fridge or pop a slice of bread into the toaster for a quick breakfast as you are heading out the door in the morning. 
Despite this ease that many feel about having access to food, that is not the norm for many people, even in our local community. Breakfast is known as being the most important meal of the day, and many children in the community go without it. 
Photos by: Boys and Girls Club Kamloops
The Powerstart program assists students with getting the best out of their education, by providing transportation to and from school, as well as providing breakfast and snacks for students who need it. The Boys and Girls Club provided statistics that show that the students involved in the program had improved academic performance by 92%. 
In an interview with the Executive Director of the Boys and Girls Club, Traci Anderson, she mentioned the significant research behind the impact that healthy and accessible food has on a child's life and academic success:
"Well basically there's a lot of research around children who are attending school and when they're not fed, the chances of them being able to learn is decreased pretty significantly," says Anderson "So we really felt that we needed to respond and we just really thought about what are all the barriers for kids to not get to school and that's what we tried to implement with the Powerstart program."
For more information about the PowerStart Program and the Boys & Girls Club click here
A TRU Connection
A Thompson Rivers University (TRU) student named Payton Comazzetto has been hosting a charity run called Brennan's Ugly Sweater Run, in memory of her late brother for the past three years. The run is a true passion project for Comazzetto, and the chosen beneficiary of the funds raised by her event is the Powerstart program. 
"Brennan's Ugly Sweater Run basically for us it's a third party fundraiser that a very amazing young woman developed the concept out of memory of her brother," says Traci Anderson of the Boys and Girls Club, "I think it's a contributing part of the success of the PowerStart and I think it really identifies how engaged the community is with being solution focused around a definite need in our community and that's feeding hungry children and getting them to school."
Comazzetto chose the Powerstart program as the beneficiary of the funds from the run because she sees the value in investing in the learning and growth of children from an early age in order to prevent any trauma or difficulties that can have a lasting impact in their lives: "The Boys and Girls Club is a well-established organization that supports children experiencing difficult times and trauma. Brennan's Ugly Sweater Run's goal is to be a part in preventing trauma and to help build a healthy and happy future generation."
Tracy Anderson says that Brennan's Ugly Sweater Run is a very important financial contributor to the program, as the funds go directly to transportation and food costs, ensuring that the food the children get is nutritional and substantial in order to give the program participants the most powerful start to their day, their education, and their life going forward.
Photos provided by Brennan's Ugly Sweater Run