Contributor(s): Ashley Hiibner & Selena Tobin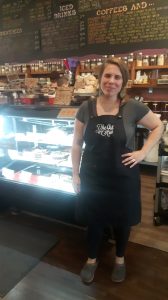 The Taste Of Downtown is an annual fundraiser held by the The Kamloops Central Business Improvement Association, where participants pre-purchase tokens they then later exchange for a sample meal from the participating businesses. The event is held all across the downtown core, with restaurants being able to vend right from their store fronts or set up a booth in the event's "Sizzle Strip" located at 3rd Avenue and Victoria Street. A portion of the funds raised by the event go to supporting the Downtown Food Bank Fund as well as the Artisans Alive Music Program. In 2018 there were 25 local and chain restaurants that participated in the event, one of which was The Art We Are.
"We had a small smoothie, salad and a coffee." said Christina Grono, the restaurant's owner. "The fundraiser is a great way of promoting downtown business as well as promoting trying new things. "We had about 50% regulars and 50% new people come in with tokens" she noted. "it's a super helpful way of bringing in new people."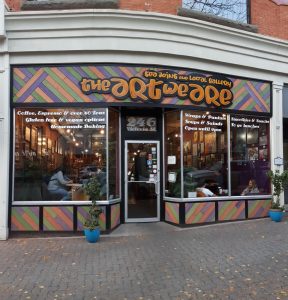 The Art We Are is a cafe located in the heart of downtown Kamloops, and uses local ingredients to create a diverse menu, as well as showcasing local art and goods in their artisan market. Christina Grono said her original vision for the cafe was for it to be a permanent farmers market: "I wanted a place where people are able to shop local always, all year round." she said.
The Art We Are chooses to source from local farmers for their veggies, dairy products and chocolates. "We even have a local herbalist who makes the herbal tea blends for us." Grono added. When the ingredients aren't in season, The Art We Are continues to support local by shopping at Fratelli Foods across the street. Even if the ingredients can't be sourced from Kamloops directly, Grono likes to choose as local as she can: "We get our coffee from Kicking Horse Coffee, which is based out of Invermere," she said. "We're in the process of potentially partnering with Twisted Goat Coffee, to give people a more local option."
When asked if there was anything else she would like to add, she said that the mission statement of the cafe is that of a safe space to present art where everyone is welcome "and I wanted that to transition into the food," she added. Grono said: "I'm a vegetarian and that was reflected in the food, but then we found that people who ate meat didn't feel welcome and we wanted a space where everyone felt welcome and had something to eat, whether that was vegetarian, meat, vegan, or gluten free."
Photos by: Ashley Hiibner