Contributor(s): Kasahra Atkins, Hanna Martens, Kien Nguyen, Christian Varty
Smorgasbord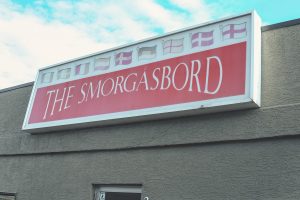 Growing produce and planting gardens is a fun and rewarding activity for many Kamloops residents. But for those who are just starting out, it can be less than satisfactory if participants are not instructions correctly on how to begin. The Smorgasbord in downtown Kamloops has been supporting people in the community who want to grow food by providing classes. Anita and Dalton Strong started using their greenhouse produce for their store; they decided to pay it forward by sharing their knowledge.
Anita and Dalton Strong's Ideas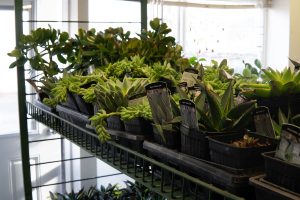 The Strongs realized that people within the community wanted to garden and explore the various plants they could grow, but sometimes didn't have the knowledge. So they created classes in the greenhouse beside their business to help people learn the basics of gardening, how to grow peppers and tomatoes, and many other delicious vegetables. They found a lot of interest and also held fundraising events within their area. They recycled old hanging baskets and made new ones. They even donated into a horticulture scholarship they created out of sheer love for gardening. They want everyone to learn as much as they can, and hope to help in any way they can.
Their interesting idea is, instead of spending a dollar to a big company, we spend a dollar among ourselves, locally. That dollar will eventually turn into 5 dollar value because it moves within the community. If someone in the community can gain something from that dollar, we all gain something.
Video produced by Kien Nguyen
The Greenhouse
The greenhouse foods are used in the business, but they don't stop there. The Strongs also bring in lots of local and regional foods to sell in their store. They serve lunch with fresh produce and cheese. They also have meats, cheeses, and snacks available for purchase, all produced locally within the province. If you are interested in growing food, they have plants for sale as well.
When selling the plants, they focus on Kamloops agriculture for both food production and aesthetics. They will help you learn about the plant as well as its caretaking. They are not afraid to play with genetics either, and have trees that have been grafted to resemble or produce fruit from other trees. Even more importantly, the Strongs believe in spending locally, keeping the dollar within the community and supporting neighbours.
And if I forgot to mention: their coffee is amazing!
Photos by: Kien Nguyen