Contributor(s): Carlee Robbins and Alyssa Robbins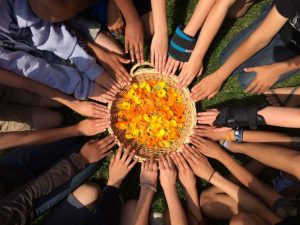 What is Farm to School BC?
Farm to School BC is a program that provides experiential learning to students about healthy eating by contributing to local food literacy. Students become key stakeholders and the driving force to the success of their neighbourhood's local and sustainable food.
History
In 2007, Farm to School launched in the lower mainland. The program started off in a salad-bar format where students at participating schools were provided healthy, local choices of food for their lunch. Since then, the program has grown substantially to about 60 Farm to School programs working with the BC Ministry of Health in schools across British Columbia.
With a growing success of the program, in 2008, Farm to School established itself in the Interior and Northern regions of British Columbia. In 2014, Kamloops became its own Regional Hub, aligned with two others: Vancouver Region and Capital Region. The Kamloops Regional Hub, alone, is now connected to 13 surrounding schools.
Now, in 2018, the program is very flexible on the criteria that connect schools to local farmers and food systems.
School Involvement
Depending on age and interests, schools interact with the program in various ways, teaching the students how to start up their own business and become entrepreneurs in healthy ways, while positively impacting their local community and environmental sustainability.
Photos by: Farm 2 School BC
Audio produced by: Carlee Robbins. Voice of Bonnie Klohn, Animator at Farm 2 School BC.
Current Programs
With a personalized approach, every student and school impact the program differently. Younger students participate in local farm tours, connecting their learning to where local food is produced; older students have created their own personalized food sustainability curriculum. Farm to School allows their students to aim high and put their food literacy and education to the ultimate test by:
Growing vegetable gardens:

Students learn how to grow and sustain microgreens to which are then used in lunch meals in the school's cafeteria or sold at the local farmers' market.

Building and maintenance:

Create and personalize garden beds, greenhouses, and garden signs.

Pollinator gardens:

Incorporate the pollinator garden into the food literacy curriculum.
Learn about the entire food system.

Composting:

Minimize landfill waste and grow plants in an eco-friendly way.
Think always how to sustain the environment.
Get Involved
For a list of step-by-step procedures on how to become involved in Farm 2 School BC, please refer to their website.