Contributor(s): Cheyanna Dyck, Rico Nuno
Thistle Farm is owned and operated by Dieter Dudy and Deb Kellog at 710 Dairy Rd, Kamloops, BC. It is situated on the banks of the North Thompson River and includes 7 acres of garden plots for producing organic vegetables and fruits.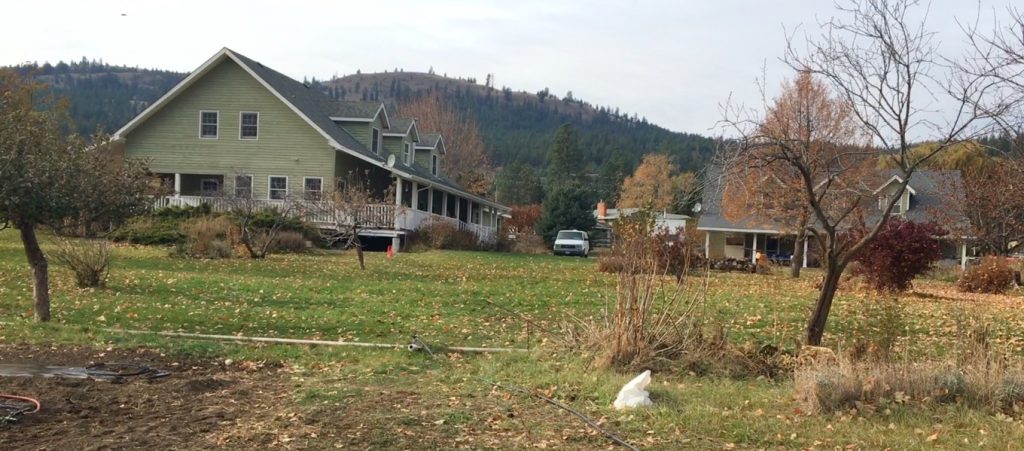 Fifty years ago, the land was part of the Hayward Sheep Ranch. Fifteen years before Dieter and Deb moved to the area, the land was owned by a gentleman named Art Kimorie who grew his farming business extensively. But, sadly, due to a family accident, he could no longer care for the farm and decided to sell. Another man took over the plot of land but quickly realized that running the farm was too much for him.
Dieter and Deb moved to that area of Westsyde in 1992 as renters and continued walking by the vacant plot of land, and soon jumped on the sale of the house and took over the property in 1994. Dieter and Deb raised their family and grew their life there for the next twenty-five years.
Certified Organic
The farm has actively been involved with the Kamloops Farmer's Market for twenty-two years (since 1997), shortly after the family purchased the farmland. The farm was certified as organic in 1999 by the Shuswap Thompson Organic Producers Association. And then again in 2001 by the BC organic association.
Delivery Service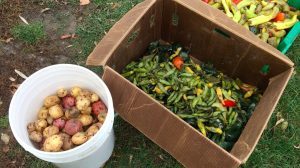 The inspiration to start the delivery service sparked when Dieter learned about C.S.A. or Community Shared Agriculture. This concept means that people would pay an upfront fee to help farmers become established and then later receive a share of the bounty and/or harvest.
Dieter and Deb were not comfortable asking for upfront fees due to the risks of unsuccessful harvest or damaged crops, instead, they chose the home delivery service.
The service provides fresh organic produce from their farm, as well as bringing in produce from other local growers or outside vendors during the farm's offseason.
In 1998 the farm began a delivery service that opened the farm to the entire community of Kamloops. The delivery service reaches neighbourhoods such as:
Westsyde
Brock
Sun Rivers
Downtown
Sahali & Aberdeen
Valleyview & Dallas
The farm delivers small, medium, large and half & half boxes of fresh, organic and local food ranging from $25 to $65 for their jumbo box offer.
Work/Education Stay Programs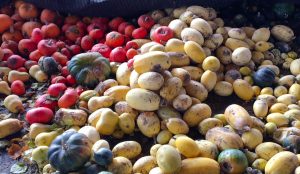 Dieter and Deb began partaking in these programs in 2008 and started with WOOF. That summer they had about 8-10 people stay with them on the farm. They continued with this service for the next four years before Deb chose to switch to Farm Stay.
WOOF targets a younger demographic, people who are travelling and exchange their work for room and board before continuing to tour the area/country. The main purpose of people choosing Farm Stay is to be on a farm.
Farm Stay partners with Experience Education, a private firm specializing in work-integrated learning. Students from across Canada can register and be sent to different businesses and gain hands-on learning.
As a result of partaking in these types of programs, Dieter and Deb have built incredible relationships with people from all types of cultures and backgrounds.
The Future of Thistle Farm
The Noble Creek water system was set to be shut down in September of 2019, but the City of Kamloops pushed that date to September 2021. That decision gave farmers, property owners, and city council more time to decide what will be done.
The water system is an older model and expensive to run. The future of the Noble Creek water system is up in the air. The undecided fate of their farm's water system adds a lot of pressure on local farmers, including Deb and Dieter.
If the water system were shut down, it would affect not only Thistle Farm but also Privato Winery, and Sullindeo Estates.
"We need to start looking at how are we going to get more young people involved. It is a cost-prohibitive exercise… but agriculture is probably one of the most important economic activities that we have…not only does it bring on economic spin-offs, but it also provides health and sustenance to the people."
-Dieter Dudy, City Council Member and Owner of Thistle Farm