Contributor(s): Miguel Valentin, Aselya Zhakezhanova, Elizabeth Chernyshova, Maksat Ibraimov
Background history
Brewloops is a popular craft beer event usually hosted in two main locations of Kamloops. One of these being the North Shore, which was the original place in which Brewloops began. The idea behind Brewloops started by a few individuals who wanted to promote craft beer and at the same time raise money for charity. According to Jon F. by the time this event came to life, the red collar brewery was about to open, and the Nobel Pig had just opened. Brewloops happened for the first time in September 2014, at the parking lot of Red Beard Brewery with 400 people and about a dozen breweries involved in the event.
However, according to the cofounders of Brewloops every year since then, the event has been able to double its capacity, adding as well a Ferris Wheel, bumper cars and music stages. It has been five years since Brewloops began in Kamloops. According to Jon, they are confident that they know what they are doing, the time period in which an event like Brewloops is organized is now around 2 to 4 months.
Brewloops has grown to be a popular event among Kamloopsians, giving not only charity but fun and entertaining nights for all of the attendees. However, the founders' objective is not only to recollect money for charity, according to the cofounder, they decided to create a Brewery focused event to support local breweries as much as possible. While in other festivals beer is donated, Brewloops buys all the beer and pays for the hotels. Event organizers make sure to create an event in which Breweries have an opportunity to talk to their customers so they can learn more about their product. Jon F. says that they also want to make sure the ticket price is fair for the people to attend and experience craft beer. Brewloops is hosted both in Downtown and the North Shore but according to Jon F., the fall event which takes place in the North Shore has and will always be their signature event.
Photos by: Miguel Valentin
Food Trucks
This event provides food trucks from Kamloops and a few from Kelowna. Event organizers want to make sure to provide different options for their attendees. They actually want to keep a balance between quantities of food trucks. They are trying to choose only selected food trucks, less than 10 who can participate in this event. Organizers want to expand regionally. For instance, have few food trucks outside of town and keep some of them inside the town. According to Jon.F, it is a nice and interesting balance because they are making sure all ventures are doing well. Two thousand attendees were present in the event last time and they had only 6 trucks. The reason is as he mentioned before they want to be sure all food trucks are doing well and none will not be left out from sales. Lots of outside Kamloops food trucks want to participate in this event. But they do not involve more than they need. So the clue about choosing food trucks is they cooperate with a very experienced restaurant consultant. Jon described him as a nice guy, and his friend right now. The restaurant consultant was involved in this event a few years back, so he knows how the system works. He is responsible to provide food options. In this event, they provide mixed offers like desserts, meat options, vegetarians and vegan. All organizations are purposed and planned.
Ian owner of a "Tacos" food truck based in Kelowna. He has worked 7 seasons. It is a family business, he opened a food truck with his wife and son. Their first truck was open in 2013. Originally he is from Okanagan and then moved to San-Diego for a diploma of trades, that is why they decided to make a Mexican dish, because he could not buy tacos and any good fish over there. He has a strategy to be environmentally-friendly, all drinks and foods must be 100% recyclable. He has two certified commercial kitchens food trucks. He said, "We try to leave a very small footprint." It means they do all their food in the truck.
Photos by: Miguel Valentin
Kamloops-based Breweries:
Brewloops inspired the opening of many Kamloops-based Breweries
Since the Brewloops opening in September 2014, it impacted and inspired the active evolvement of many local breweries. The first-ever hosted Brewloops event that took place in 2014 had around a dozen breweries from across BC's region.
"It was 300-400 people. It was very different, we didn't have a Ferris wheel, bumper cars, we didn't have a full stage, a stage was a trailer," told Tyson Andrykew. "I don't think we had any cider, so it was just a crafted beer."
With a time Brewloops had grown into a big festival, gathering together approximately 40 breweries across BC's region. Brewloops festival enhanced the opening of many breweries in Kamloops.
Kamloopsians had celebrated the opening of the Bright Eye Brewing
On October 29, 2019, the Bright Eye Brewing was open by some of the co-founders of the Brewloops.
It has hosted its first evening successfully, where Kamloopsians had a chance not only to try its unique types of beers but also enjoy the unique atmosphere of a new place.
The process to organize everything before their opening took more than two years for 4 co-founders. The menu was developed and designed by four of the co-founder to fit everyone's tastes and expectations.
"They're four of the co-owners in the Bright Eye, the two brewers and Mitch and Richard who are also on our board. Richard has done most of the restaurant's stuff because he is the one of those who started the Noble Pig," shared Tyson Andrykew, who is the co-founder of the Brewloops.
On November 2, 2019, the Red Collar has hosted its 5-year anniversary.
Red Collar was one of the first breweries in Kamloops. It was established in 2014.
On November 1, 2014, Red Collar was opened that's when was the Birthday of founders' dog, Goosey, who is the symbol of Red Collar. It was founded by husband and wife, David and Annamarie. David is in charge of brewing, and Annamarie does the organizational and managing part.
One of the first breweries in Kamloops was open in 1995 by Annamarie and David and it was called, "Bear Brewing".
In 2010 David and Annamarie with partners opened The Noble Pig, which was sold in 2013. After a year they have opened "Red Collar", which was a little bit different, it was licensed to have a taproom attached.
"Craft beer is so much a part of BC's culture now, but it wasn't, you know 25 years ago," noticed Annamarie. "When we started 'Bear Brewing' in 1995 it was really hard to sell beer in this town. And when we started 'the Noble Pig', there were a lot of people who said, 'you're crazy, this will not work'.", shared Annamarie about their hard work.
For now, there 8 different breweries in Kamloops, some of which also serve food and work as a restaurant.
Photos by: Miguel Valentin
Sponsors and Environmentally-Friendly Procedures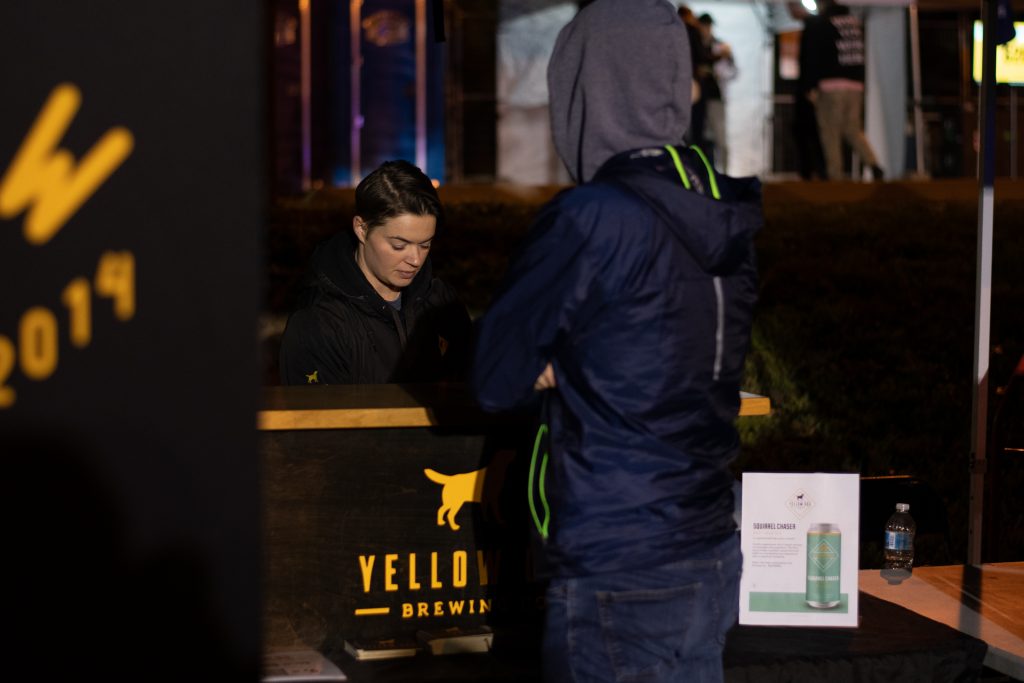 Sponsors reach out to Brewloops heavily based on how much they will be promoted and it is a delicate balance of raising money for the community, and also on the benefits that the sponsors will get by being involved in the event. There are many sponsors that reach out to Brewloops themselves, there is a lot of personal connection which was built during the 5 years that Brewloops exists. Sponsors want to be involved in the marketing push.
Of course, sponsors are also volunteers, and they see that the money raised goes into non-profit, and it is raised for charity, so they want to be involved in that. The biggest sponsors of the event are Kia, Stag's Head Liquor Store, Tourism Kamloops, United Floors, and Sun Peaks. A lot of them are friends of the founders of Brewloops, so because
Kamloops is a small town and everyone is familiar with each other, the sponsorship goes deeper than just organizing an event, it builds relationships beyond that. During the interview, the founders of Brewloops said that a large part of Brewloops is that they are trying to support local breweries, and food trucks, they want them to do well. The main signature of the event every year the annual North Shore event. Anything else is usually when Brewloops founders are called in to organize a craft beer event. There are many partnerships without which Brewloops can't function. The public is being educated on what's available in craft beer, Noble Pig and Red Collar were some of the first breweries that the event started with originally, now there are many new breweries added to the list. There is no competition involved, the festival is built around being very inclusive and friendly. The two main purposes of the event are to raise money for the community and help promote local breweries, and of course also to create an exciting night for the public.