Contributor(s): Kasahra Atkins, Hanna Martens, Kien Nguyen, Christian Varty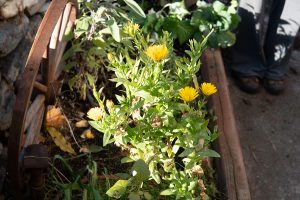 All throughout Downtown and the Sagebrush neighbourhoods, people grow an incredibly diverse amount and variety of produce! Many people in Kamloops grow food in their own backyards. There are a variety of different ways people utilize their space, including in trees, in greenhouses, and on the ground in garden beds. Ask any gardener and you will find that folks have diverse reasons for growing food. Some want to teach their children where food comes from, while others love the taste of fresh garden veggies and find meaning in participating in a more sustainable food system.
Video produced by Kien Nguyen
Gardens are an important source of fresh food within Kamloops, and come fall, many of these gardeners are busy canning, freezing, and drying all the wonderful food that comes from their garden. The crops they reap and preserve are often sold at local farmers' markets or given to neighbours and community members. This is a great way to engage in low emission farming.
Shelaigh's Garden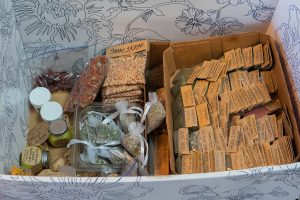 Shelaigh is a backyard gardener in downtown Kamloops who has been enjoying her time gardening in the warm sun. She values permaculture principles, which means she grows many perennial plants that work well together and keep the soil healthy. You are able to clearly see these principles in Shelaigh's garden; the design is filled with berries, fruit, and vegetables that will continue to grow year after year. Shelaigh is also a landscape designer and recognizes the importance of edible landscapes within the city. She has designed both public and private gardens for individuals and groups within the city.
How to get involved
Creating a backyard garden is simple to do and can be a lot of fun. All you need is a space on your property, some great intentions, and the right tools. Kamloops is a great location for growing food with its long growing season and hot summer weather. We are able to grow everything from carrots to squash. The first thing to do is to decide what you want to plant and find out the requirements. Classes are offered throughout the city to teach things like gardening basics, but there is also a wealth of knowledge within neighbourhoods and the seasoned gardeners who live there. Once all the information is available it's time to get your hands dirty. Join the sustainable food community and Happy Gardening!